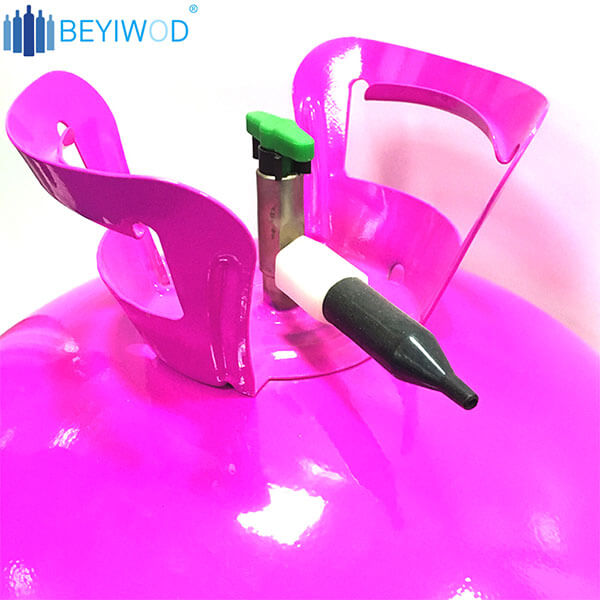 One complet set helium tanks is including:
one non-refillable tanks, one non-refillable valve and one nozzle packed in one colorful gift box.
Below is our additional optional accessories.
OEM - Helium Gas Cylinder
We can do OEM for you according to your design drawing.
For example, we can put logo and warning statement and other informations you want to show customers.
For the packing box, we can do beautiful colorful gift box according to your design to make it unique to create a brand effect.
How to use
This disposable composite helium gas can is used to float balloons. It is necessary for birthday parties, festivals, weddings, celerbrations and so on. The float time for each latex balloon is approximately 6 hours.
Steps of operating for disposable helium tank:
Packing & Delivery
Company Introduction
We are professional producer of many sizes of disposable cylinder and helium gas for balloon use.
We have more than 15 years experience for export our cylinder and helium gas to USA, Europe and other countires all over the world.
FAQ
Q1: What size of helium gas cylinder do you have?
A1: We have 22L, 13L, 7L, 3L helium balloon tank.
For more details, please contact us so we can send you our catalog.
Q2: What's your delivery time?
A2: For the first order, we need to make cardboard design and painting so the delivery time for empty cylinder is 20 days, for full helium gas cylinder is 25 days. From the second order to begin, our delivery time is 15 ~ 20 days.
Q3: How many balloons can be inflated for one helium gas cylinder?
A3: It's depended on the helium gas volume and different size of balloons.
For the detail informations, please contact us for further communication.
Q4: What about your packing and the loading quantity for 1x20'GP and 1x40'HQ?
A4: Normally, we load 7L, 13L and 22L helium gas cylinders.
7L: 1900PCS/1X20'GP, 4600PCS/1X40'HQ
13L: 1150PCS/1X20'GP, 2600PCS/1X40'HQ
22L: 650PCS/1X20'GP, 1600PCS/1X40'HQ
Our packing is 1pcs/boxes.
Each cylinder will be packed in one colorful gift box.
All the accessories will be put into this gift box together.
Q5: What's your MOQ?
A5: Our MOQ is 1x20'GP for each size.
If your purchase quantity is lower than our MOQ, please contact us for further communication.
Q6: Can you do OEM?
A6: Yes, of course.
Everything can be OEM including the color of helium balloon tank, paiting your logo on helium gas cylinder body and make a design with your logo for colorful packaging gift box.
Q7: Can you send a sample before placing the batch order?
A7: Yes, no problem. But we only can send one empty helium balloom kit to you and also the valve will be separate packing. If you can accept, we can send you as a sample.